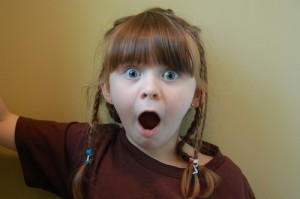 Hi. It's me. Kristin.
(Not quite as unleashed as I was a few months ago and feeling a bit younger than I have in awhile as you can see from the picture above.)
🙂
The past few weeks have been a slew of activity. So many small and large work details to take care of and feeling like not a lot of time to do them. Is it just me or is the pace of American life really, really fast?!
Let's take a moment to breathe together, shall we?
breathe
breathe
breathe
Okay, that's better…
The last few weeks have been filled with some challenges: having to fire/hire people. Uggh. And then odd and somewhat dramatic things happening in my work that I had to deal with quickly when really I felt like a deer in the headlights -my brain and spirit felt a bit paralyzed after months of not working…
Working intensely after not working at all for many months has been like…hmmm…what has it been like?
…like trying to run a marathon after being a coach potato for months.
(Not that I want you to feel sorry for me, mind you. I can hear your thoughts now "Poor Kristin, having to work after her 8-month sabbatical. Let me get my violin out.")
It's just that working again has been like going to boot camp, is all I'm trying to say.
🙂
And in the midst of all of the intense work-related stuff I've also been working on my second book and creating a logo/tagline/website for the new business I'm creating.
Thankfully those particular parts of my work are really creative and fun and fill me with aliveness.
When I was in Bali I started saying this affirmation a few times a day:
I experience happy surprises.
And I began to have really cool things happen. I found money (lots of it) on the street (a couple of times!) I ran into people that I really wanted to connect with. Strangers in restaurants invited me to try bites of their yummy dessert. Things that I needed were given to me (without my asking). Etc. Etc.
So after all the unhappy work surprises started happening I pulled out the old trusty Bali mantra, dusted it off and began saying it again.
And then: someone recently posted a positive video review about my book on You Tube which caused book sales to rise this weekend. I got asked to be a guest business blogger for a few websites which helps me develop my 'platform'. The photographer who took my book cover photo last time offered to shoot my upcoming book cover photo for free if she can use the pictures for stock photos (you betcha!). My fisherman neighbor began bringing me fresh salmon, halibut and crab on a weekly (and sometimes twice-weekly) basis. I began having powerful dreams about beautiful houses which has prompted me to begin taking steps toward buying a house.
And in the midst of all these challenging and exciting things, finding moments of much-needed peace and serenity through: hikes in the woods, bike rides to the Good Earth for lunch and grocery shopping, Sunday night group meditations, and heartfelt connection with dear friends and my various communities. I feel like these things have held me through the work challenges of the past few weeks.
All in all, I'm grateful.
And, I have to say, really surprised at how happy I continue to feel about being back in Marin in spite of the recent work intensity and challenges.
That's one of the happiest surprises of all.
🙂