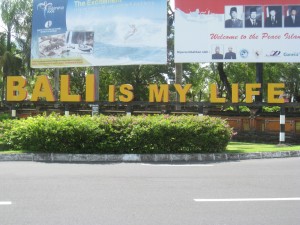 Well, after being in Bali for only 48 hours I already I had a JOB.
Yes, it's true.
Robin Sparks is probably the most connected person in Ubud, Bali. She's the Ubud Maven (at least that's what I'm now calling her).
A day after I arrived in Ubud, Robin texted me on my Bali cell phone and wrote, "The Bali Spirit Festival needs more bloggers. You interested?"

I was.
Soon I was in a meeting with the head of the Bali Spirit Festival.
And guess what? I am now part of the media crew for the festival next week. (Thanks Robin!)
That's not all…
Within a few days of being here in Bali I was invited to:
-attend a rotary meeting in Ubud
-take part in a family constellation group
-attend a Balinese wedding
-join a dream interpretation group
-go to two 5-rhythm dances (one tonight and one tomorrow morning)
and many other adventures.
I wrote about The Flow of Ubud last year. I'd wondered if that Flow was perhaps something that just happened last year but no, The Flow here is pretty easy to tap into if you are meant to be here. If you are not, Ubud will chew you up and spit you out. (This is a well-known fact amongst those who live here full-time.)
And if you ARE meant to be here you will be so lovingly guided to the next right person, place and experience.
At least that has been my experience.
I think I'm meant to be here.
I arrived in Bali last Tuesday and Wayan picked me up at the airport. It was really comforting to see his smiling face when I got off the plane from India.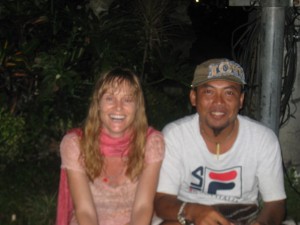 He'd shaved his head ('I wanted to start out the Balinese New Year with a new head'). He didn't say hello when he saw me. He just smiled at me and sized me up and down and said, "You look more thin than last year. Other than that you look the same. You ready to go?"
There was a comfortable silence between us as he hoisted my backpack over his shoulder and we walked to his car. We chatted and caught up while he drove me to my jungalow.
I couldn't believe that I was in Ubud. After all these months of yearning to be back in Bali here I was: finally back.
The traffic to my place in Ubud was intense. "It's gotten worse," Wayan said.
Shoot.
And there is a Starbucks here now. It's right down the street from my jungalow. Though it is the most beautiful Starbucks I've ever seen (at least from the outside–you won't find me in there) but still- a Starbucks? In Ubud, Bali?
The rose-colored glasses quickly came off as we drove down the congested bus-filled main street of Ubud.
Which, you know, might not be a bad thing. Before I left I was having dinner with a friend and I told him about my longing for Bali and that I wanted to create more integration between my love for Bali and my home in the U.S. I was feeling myself quite torn last year when I returned.
It wasn't a good feeling. And I tried not to think about Bali too much in order not to feel the split within me.
With the removal of the rose-colored glasses I can feel that integration happening.
Integration and FLOW. What a great combination in this mystical, beautiful town.